After my slightly disappointing experience with UberEATS last weekend, I decided to give them another try. I also wanted to take advantage of a voucher code giving 20% off until the end of the month. So as dinner time approached on Saturday evening, I flicked through the options available and decided I fancied ribs.
As I'd travelled to Chicago last January, Chicago Rib Shack caught my eye. I checked out some reviews online, and it looked pretty good so I placed my order.
Ordering
I decided to go for the Rib Shack Stuffed Skins (£6), and Baby Back Ribs with BBQ glaze (£16 for large). Delivery was an extra £2.50, but the 20% discount reduced the total by £4.50.
After a long week of work, ribs and fries were just what I needed on a cold January night! And who can't resist loaded potato skins! It's easy to order using the UberEATS app, although it took a few goes to save my Home address. I placed the order a couple of hours in advance, and specified a delivery time of 7:30-8pm. So with that done, I sat back and started to watch a film.
Delivery
I was slightly concerned when I checked my phone at about 7pm, and there hadn't been any order updates – had they somehow lost my order? However I needn't have worried as a few minutes later I received a notification to say my food was being prepared. The ETA was just after 8pm, but at 7:30 this quickly dropped down to 7:40 once the courier was on his way. So top marks for punctuality!
My door buzzer rang at exactly the scheduled time, and very soon afterwards the courier was handing over my food. It was another cold night, but even so I was surprised and disappointed to notice that the carrier bag felt cold to the touch given it should only have been out of the bag for a few seconds.
The Food
The food was packaged in similar thin cardboard packaging that my delivery arrived in last week. Maybe this is standard for UberEATS, but it's not very good at keeping food warm.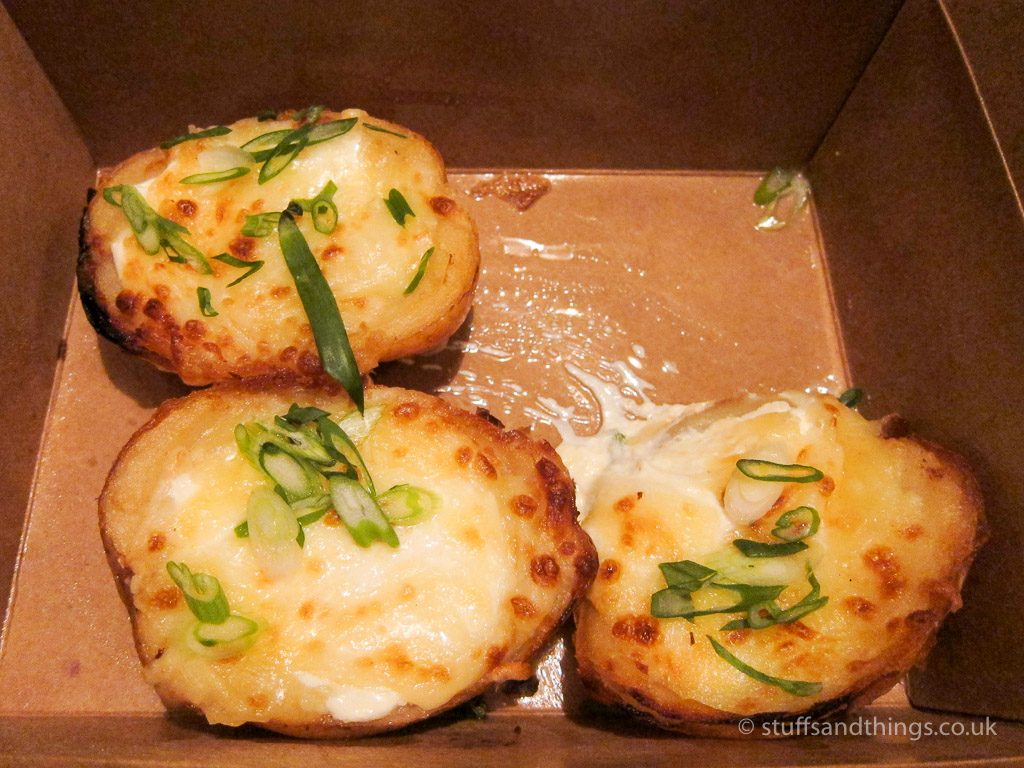 I could tell immediately that the food was lukewarm at best, so started to tuck in straight away. I started with the potato skins (there were 3 in the box), and these were pretty tasty despite being cold. They were however rather greasy and not at all crispy despite being advertised as such. There was plenty of sour cream, cheese and spring onion but not much in the way of bacon.
These were quite filling, so after 2 skins I moved onto the ribs and fries. The fries were quite soft and not the best I've ever had. The ribs tasted good, and the BBQ glaze was tasty however the ribs themselves were quite tough. These had been packed in reflective paper packaging so were slightly warm rather than cold.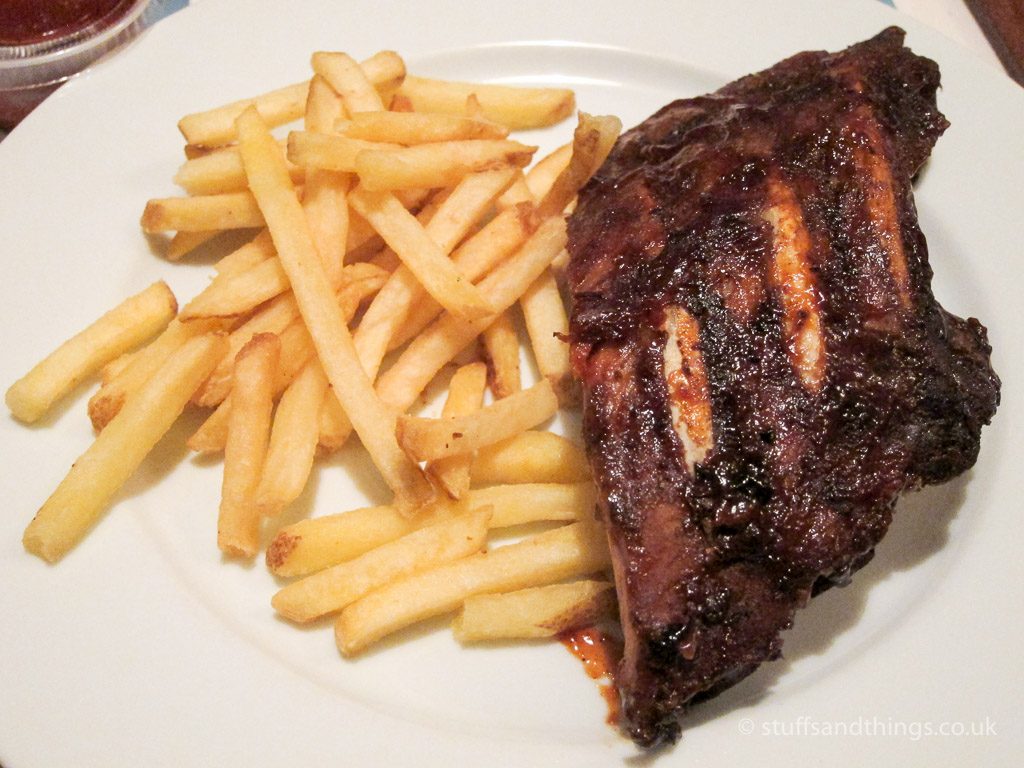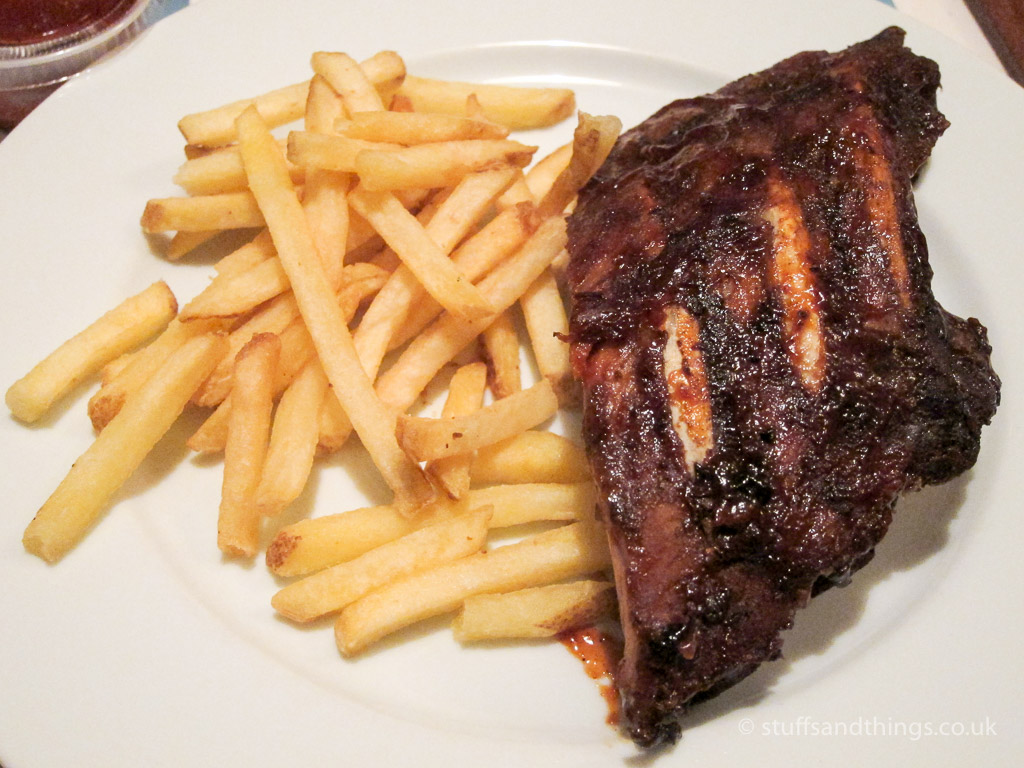 The ribs also came with a small pot of what was meant to be pickled coleslaw, but this was also pretty disappointing.
Quality

Delivery

Value for Money
Summary
All in all, not a great experience - the delivery was exactly on time, but despite this the food still arrived cold. The food was quite tasty, but let down by the skins being greasy and the ribs being tough.