I've been stuck at home for the last 5 weeks (see here for the reason why), and tonight I wasn't in the mood for cooking. I really fancied some takeaway, specifically a burger and chips!. I've used Deliveroo previously, but wasn't overly impressed last time as they took ages to get the order to me. Also they now seem to have a smaller choice of restaurants where I live.
So this time I decided to give UberEATS a try, and see how they compared. They have a good choice of restaurants, and I was glad to see a few burger restaurants listed.
Ordering
The app is easy to use, and as I already have an Uber account, it picked up all my address and payment details when I logged in. After a bit of searching through the various menus, I found what I wanted. I ordered a Bacon and Cheese burger (£7.50) from Chuck Burger Bar in Aldgate, along with a side order of skin on fries (£3). There was an additional delivery charge of £2.50 applied bringing the total to £13. Quite expensive for a burger and chips, but having been stuck at home for over a month I really wanted this burger!!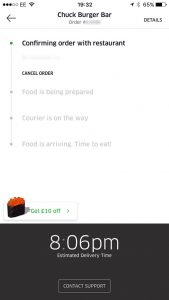 The order process was very quick and easy. There was no need to enter my address or payment details, as these were already configured on my account.
The app gave me an estimated delivery time of just over 30 minutes from placing the order. This I think is pretty reasonable for a Saturday evening. So I sat back, and started to look forward to devouring my tasty burger!
Not long afterwards, I received the first notification telling me that my food was being prepared – pretty quick so far! Then just 10 minutes after placing the order, I received another notification that it was on its way to me. So far so good!
Delivery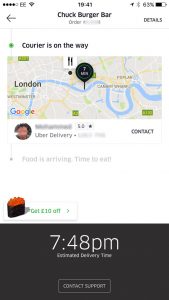 At this point, the ETA improved to 7.48pm, and I could start to see the driver icon move towards me. However about 10 minutes later the tracking stopped working, and the order status changed from Upcoming to Past which meant I couldn't see where it was.
Just after 8pm, my phone rang and it was the delivery driver who couldn't find my address, so I spent a few minutes giving him directions. Then a couple of minutes later – at almost exactly the time they stated originally – my order arrived. Pretty impressive – and would have been more so if he'd not had problems finding me.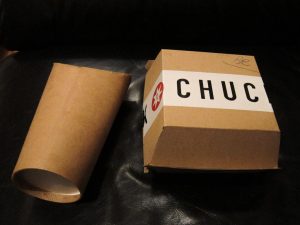 The food arrived in a thin paper bag, and this I think is a slight failing as it allowed the food to get cold. It was cold outside (about 3 degrees C), and the food didn't have much chance of staying warm with the driver walking around outside for 5 minutes.
Also the burger and chips were packed in thin cardboard packaging, which didn't do a great job of keeping them warm either. This was a bit disappointing, as I'd have expected at the very least that UberEATS would transport the food to the front door in an insulated bag or box.
Eating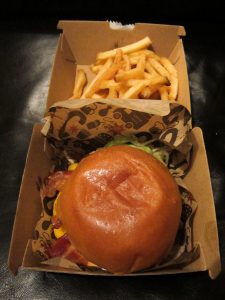 Despite being only just about lukewarm when it arrived, the food was actually very tasty. The burger was excellent, and the meat was cooked medium with a nice pinkness in the middle. The bacon was thin and crispy, and everything else was just right.
The skin-on fries were very good too, even though they were almost cold by this point. Despite not being hot, they were well-cooked and tasty nevertheless. The portion size was good too – the photo to the right only shows about half the chips.
Free Food!! Use eats-edh1524ue for your free £10 UberEATS London promo code!
Quality

Delivery

Value for Money
Overall
Delivery was on time, but let down by the delivery driver not being able to find my address, and wandering around with my food getting cold. The burger itself was very tasty - one of the best I've had - and the chips were excellent too, despite being only lukewarm when delivered.